The game of bingo was invented in 1929 and has evolved to become a highly entertaining communal card game, with multiple variations now played across the globe.
While the offline game played at community centres, clubs and halls around Australia and the world has largely maintained a similar structure, aside from the introduction of electronic machines which allows players to purchase an increased number of cards and play other games such as pokies, it is the development of online bingo which has revolutionised the way we play this game (known as housie in Australia). Here we detail land-based, online and other hybrid versions of bingo.
Land-Based Bingo Variants
In a land-based game of bingo, a large group of people is required to play. Each player purchases (or is provided with) random bingo cards. There will always be a maximum number of cards any one person is allowed to use. Depending on where you are playing, cards will typically either be organised in:
A 5×5 grid format with the letters B-I-N-G-O along the top, with the center square usually marked 'free'. The B-I-N-G-O letters correspond with the five columns on the card, with the numbers 1-15, 16-30, 31-45, 46-60 and 61-75 occupying columns B, I, N, G and O respectively (all inclusive). This version is most popular in North America.
A 9×3 grid (three horizontal lines and nine columns) Each horizontal line contains five numbers and four blank spaces. Numbers 1-9, 10-19, 20-29, 30-39, 40-49, 50-59, 60-69, 70-79 and 80-90 respectively occupy columns one through to nine (all inclusive). This version is most popular in Europe and Australia.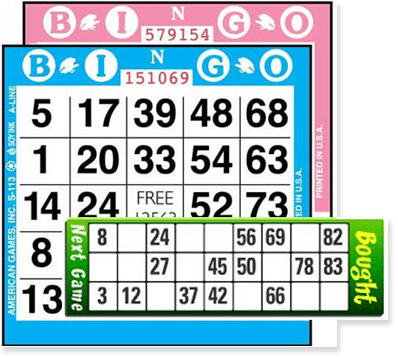 Either a bingo caller/host or a random number generator machine will draws a selection of numbered balls from a hopper (ball container), and the numbers (and respective column) will be announced to the group (for example, N24 in the American variant). The aim of all games is the same – to mark off matching numbers on your card with those drawn at random, and fill up a pre-determined pattern on the card.
Typically, 75-ball bingo sets a specific pattern to be filled out in order to win (often a row, column or diagonal), and after that pattern has been completed by a player, prizes are awarded to those who manage to complete the rest of the card. In 90-ball bingo, the game is generally played in three stages – fill one line, fill two lines and fill the entire card, with prizes awarded at the end of each stage. Once a player has completed a line, they yell out "Bingo!" to inform all other players of their win.
In North American bingo, the centre square marked 'free' or with another word or symbol like a star or explanation point is marked automatically, regardless of what number has been called.
Electronic Bingo Machines
With the progression of computer technology, electronic bingo machines have become more popular and more advanced. So what exactly are these machines?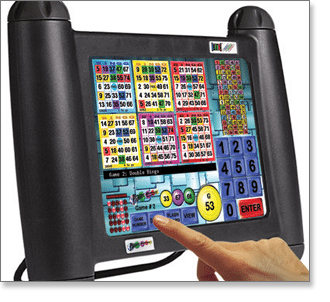 Used in land-based bingo games, these machines (also known as electronic computers) are touch-screen terminal devices (about the size of a 15-inch laptop screen) which can track 100+ cards simultaneously. Players can plug in their numbers and the computer does the rest, eliminating numbers automatically as they are called out. This format makes the game easier, gives players the ability to boost their chances of winning by purchasing more cards, and allows them more time to relax.
Venues which allow these machines to be used will usually place a limit on the numbers of cards permitted to be bought by any one player. This keeps the game relatively fair for those who still like to use traditional paper cards. Bingo machines are compatible with credit cards and/or bingo membership cards which are used to access the player's bingo account and deposit cash, deposit winnings and withdraw winnings. Other games such as the pokies can also be played on such machines.
Video Bingo Machines
Video bingo machines, not to be confused with the electronic bingo machines, are those which resemble traditional pokies machines and video poker gaming machines – those powered by random number generators. Altered versions of bingo are available to play on such machines – games which are designed for single player mode, often holding large progressive jackpots. These are far more common at land-based casinos.
Real Money Online Bingo Games
As you can see, electronic and video bingo machines are attempting to replicate more and more closely online bingo games, because with technology rapidly advancing, bingo is now far more convenient to play on the Internet. The electric devices used within bingo halls and brick and mortar casinos can see the value in online games, but are struggling to keep up with the online progression which is able to offer fun and secure community-based bingo games to players across the globe on any one website, as well as hybrid versions of graphically-advanced single player bingo games at online casinos, with mobile and live dealer bingo fast making their way on to the scene, too.
Community-Based Internet Housie
Virtual, community bingo follows the same format as land-based bingo, with both 90-ball and 75-vall games available to play.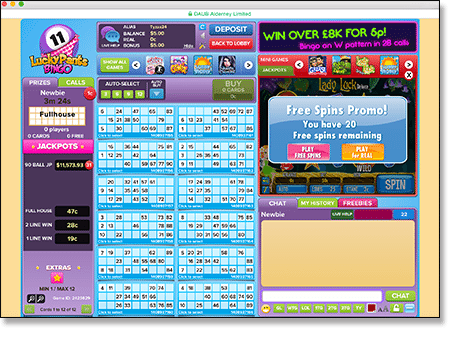 The chief difference is that all games are conducted online, via a secure bingo site where players can interact with others, buy cards, play other games like pokies and blackjack, and enjoy a huge selection of bingo tournaments and unique promotions and bonuses.
When playing inside a bingo room, a chat host will be available to answer any questions, and your purchased cards will be displayed in the main area. Numbers are drawn by random number generator powered computer simulated software (as opposed to a caller selecting random numbers from a hopper). When a player wins, instead of calling out "bingo", he or she can opt to hit 'bingo' on their computer, or allow the game to announce their triumph automatically.
Endless sophisticated pattern wins are also available for online 75-ball games, while progressive jackpot games (where the money purchased for tickets goes to an overall prize pool, often in excess of $10,000) are a prominent feature within many of the games. Within online bingo games, you can choose to mark of your numbers manually, or let the computer do it for you (far easier, and recommended, and can be configured in the game's settings). Many games will continue after a winner has been determined, in order to establish a second and third prize winner.
Single Player Internet Bingo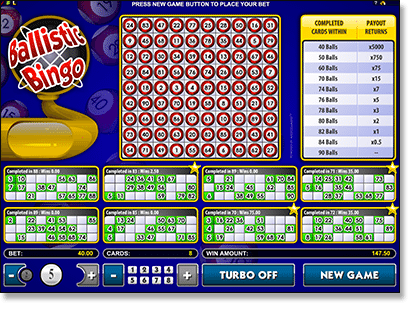 Available largely at regulated and trusted online casinos, single player bingo titles are hybrid versions of the classic game, with quality graphics adding to enjoyment of the game. There will almost always be a pre-set paytable which displays the payouts a player receives for hitting bingo (marking off a pre-determined card pattern or entire card), and players can alter their stake for each card, choose how many cards they wish to play, and enjoy bonus features such as extra balls and jackpots.
Other Variations
Many other variations of the classic bingo game exist. These include:
30 ball/speed bingo: fill your entire 3×3 card.
80 ball bingo: hybrid version of 75 and 90 ball games, where a 4×4 crd is used, and players need to fill different patterns, such as one diagonal, vertical or horizontal line, four corners, multiple lines or a full house.
U Pick'em bingo: players choose numbers they wish to play – this closely resembles keno.
Quick Shot bingo: numbers are pre-drawn and players purchase sealed cards.
Death bingo – players are eliminated if they hit bingo, and the winner if the player who has matched the most numbers without reaching bingo.
Check out the rules to the bingo/bango card game, too.