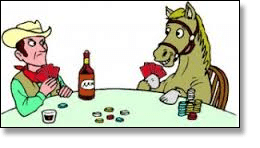 There are numerous versions of the classic game of poker, and H.O.R.S.E. is one of the most entertaining. This popular game draws attraction from high stakes poker players due to the competitive nature of the game which requires skills across a range of different poker games.
H.O.R.S.E, is a combination of five different variations on classic poker; Texas Hold'em, Omaha, Razz, Seven Card Stud and Stud Eight-or-Better. During a game of H.O.R.S.E, each round of play rotates between each of these poker game variations.
One of the things that makes this mixed poker game so exciting is a player's ability to be across all of these five poker variations. While most top poker players usually have one or two poker game variations they specialise in, H.O.R.S.E. requires players to switch between different rules and strategies, making it a challenging and fascinating game requiring a great deal of skill and concentration. H.O.R.S.E. is generally considered to be the best way to judge a poker players ability and requires an advanced level of poker knowledge.
You can play H.O.R.S.E. online for real AUD currency or practice money at 888 Poker to see what all the fuss is about.
The Games Within H.O.R.S.E. Poker
H.O.R.S.E. consists of rounds of play that cycle between five different poker games, the acronyms of which create the title HORSE:
Hold'em
Omaha Hi
Razz
Seven Card Stud
Eight-or-Better (Stud Hi-Lo)
Each of these rounds is played using the rules of the poker game variant it comes from, hence the challenging nature of this game for players to be widely proficient over a range of rules and strategies. While each game needs to be fully understood in order to play, a quick overview of each is below:
Hold'em: Commonly known as Texas Hold'em, this is the most common form of poker played around the world today, with ample high stakes tournaments such as the Word Series of Poker (WSOP) and the Aussie Millions based on this format. In this game, players use two hole cards and five community cards to make up the best hand possible.
Omaha Hi Similar to Hold'em, with players using three of five community cards and two of their four privately dealt cards to create the highest ranking hand.
Razz: A variation of Stud poker, where players make the best possible lowest hand ranking from the seven cards they are dealt.
Seven Card Stud: Requires players to make the best possible hand using face-up and face-down cards that are dealt throughout the game.
Eight-or-better: Also known as Stud Hi-Lo, this poker variant follows the same playing format as Seven Card Stud, but the pot is split between the player with the highest and lowest hand (and Eight-high hand is a pre-requisite to qualify for the low hand).
How to Bet and Play H.O.R.S.E. Poker
H.O.R.S.E. poker is played with a standard 52 deck of playing cards, excluding the Jokers. The aim of the game is to make the best possible hand (which includes making the best lowest ranked hand in some cases), out of the cards you are dealt, as per the rules of each individual poker game mentioned above. A maximum of eight players per table are permitted.
The game holds a fixed limit structure, which means players must place all wagers in a pre-determined amount consistent with the stakes of the table. For example, if playing at a $1 table, a bet must be equal to $1, with second raises increasing to $2, a third raise increasing to $3, etcetera. A total of four raises are permitted per round. H.O.R.S.E has been played as a no-limit game, though, most memorably at the 2006 World Series of Poker.
The Rules of H.O.R.S.E.
In addition to the individual rules of each game, H.O.R.S.E. generally follows the following format:
– Players must agree on the games that will be played (as there are many variations to the standard H.O.R.S.E. format), as well as the rotational order they will be played in before play commences. Variations such as C.H.O.R.S.E (adding Chowaha poker or Crazy Pineapple poker), C.H.O.R.S.E.L (adding Lowball poker) and T.H.O.R.S.E.H.A. (which includes limit 2-7 Triple Draw, limit Texas Hold'em, limit Omaha Hi-Lo, limit Razz, limit Seven Card Stud, limit Seven Card Stud Hi-Lo, no limit Texas Hold'em and pot limit Omaha) all exist.
– If a player wishes to remove or add a game they must have full compliance from all other players at the table before play commences.
– Unless previously agreed, each poker variant is played for one full rotation.
– Players are expected to play each poker variant and can't choose to opt out of one over another.
There are many variations to the way H.O.R.S.E. is played, with rules that differ between online casinos and land-based casinos, which is why the format of the game must always be agreed upon by all players before play commences.
Where international players can Play H.O.R.S.E.
H.O.R.S.E. can be played online for real money at one of the best and most trusted online poker rooms: 888 Poker. This online poker site is great for international poker players, with games and tournaments playable for real money and the chance to gain entry via satellites tournaments to more prestigious events such as the WSOP. 888 Poker is secure and reliable, and offers new users an attractive welcome bonus of up to $888 in bonus cash upon registration.
Land-based casinos around the world very rarely offer H.O.R.S.E. as part of their poker range, making it the ideal card game to play online.
If you like H.O.R.S.E. poker, chances are you'll enjoy the catalogue of random number generated and live dealer online card games such as blackjack, baccarat and classic poker, playable for free or real money (Australian currency) at trusted sites like All Slots Casino and Casino-Mate.
A History Lesson about Horses
The rising popularity of H.O.R.S.E. is mainly due to its inclusion in the 2006 World Series of Poker, a tournament that attracts the world's best poker players. The game was introduced with a $50,000 buy-in, a price so high (the biggest buy-in event of the entire series – five times bigger than the main event) only the best of the best entered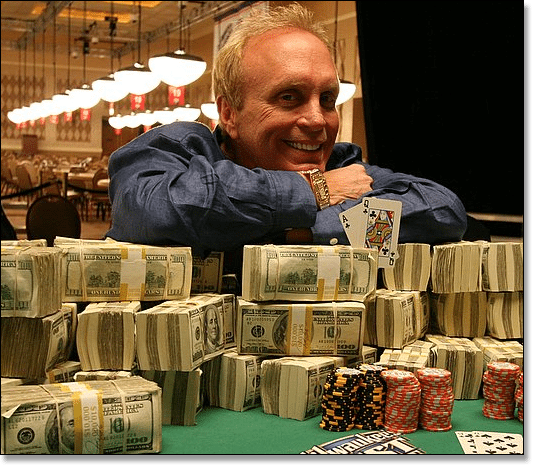 As H.O.R.S.E. gives players a chance to showcase their skills over a rotation of five different poker game variations, it attracted many major professionals who were willing to prove they their status as the best all-round poker player. Over 140 players threw down the $50K buy-in, including big names in the professional poker world like Patrik Antonius, Doyle Brunson, Phil Ivey and eventual winner, David 'Chip' Reese.
Chip Reese passed away the year after winning the titile (December 4, 2007) and to commemorate his achievements, the David "Chip" Reese Award was established for future winners of the $50,000 H.O.R.S.E tournament.
The game continues to be a big event in the World Series of Poker and major tournaments all over the world. It is also very popular online, with many virtual casinos offering a range of playing formats. Although H.O.R.S.E. can be found at a number of international land-based casinos, it is rare to find it in an Australian casino, making online sites like 888 Poker (link) the ideal place for Aussie's to test their skills at H.O.R.S.E. Poker.