Video poker is often overlooked when it comes to casino games, but they can actually be a better variant to play than the pokies. While the extent of licensed and original themes isn't as varied as real money poker machines, they do offer a better Return to Player (RTP) percentage. While many video poker variants appear similar there are some differences to be aware of. We detail what these are and the best variants online below.
Best online video poker sites
Casino
Bonus
Games
Pokies
Signup
How does online video poker work
Please note that this guide is intended for international players only. For Australians, you can no longer play any card games online for real money bets after September 2017, when the Interactive Gambling Amendment Bill 2016 came into effect to ban offshore online casinos from providing gambling services to Australia.
Video poker emerged on the gaming scene in the 70s, and was adopted by many software developers as they crafted their online casino game catalogues. Many players opt for online pokies and overlook video poker, but due to the low house edge players may find the game enjoyable.
Video poker is an electronic machine version of poker. Rather than playing against other players, you play against the house. Players are dealt five cards and you choose if you want to keep the cards, or receive new ones with the overall aim of creating the best hand possible. Winning hands are paid according to the pay table which is available on the game screen.
To get started, international players should log in to your preferred online casino. If you want a secure site which uses advanced encryption technology which protects your details, as well as all deposits and withdrawals, opt for the recommended video poker sites in the table above.
Once you've logged in and have money in your account you can choose your preferred video poker variant. All games allow you to choose your bet size by playing around with the buttons at the bottom of the game screen. Then simply press 'Deal' to get playing.
You will receive your cards and you can choose which one's to keep or discard by clicking them – this will put them on 'hold' and when you click the 'draw' button the cards which haven't been selected will be replaced. The new cards will be your final hand and you will be paid out accordingly. You may also have the function "double or nothing" where you can gamble your winnings – similar to the gamble feature on our favourite pokies.
While the premise of the game is very much the same across most online video poker variants, you may find there's a few notable differences.
Online video poker variants
Besides the big difference between games using standard decks of 52 cards, and other variants using jokers, video poker variants are quite similar. However, there are variations between software providers.
Microgaming video poker variants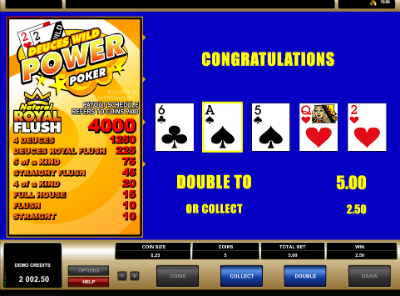 Microgaming is king of video poker offering a huge range at many of our top online casinos, including Casino-Mate online casino. Some of the available variants include:
Jacks or Better: This variant offers a 99.54% RTP and follows standard gameplay where you need a Royal Flush to get the maximum payout of 4000 coins. There's also the chance to gamble your winnings. The minimum bet is $1.25 per game and the maximum is $25.
Tens or Better: This title is played with a standard 52 card deck and players with a pair of 10s or higher receive a payout. The highest payout is 4000 coins and the RTP is 99.14%. The minimum bet is $1.25 while the maximum available is $25.
Deuces Wild: The game uses a standard 52 deck but the two's are Wilds. There's no jokers and four twos offers a great payout of 1000 coins. There's a minimum bet of $1 since you are playing four games at once and a maximum of $100 available, plus a 96.77% RTP.
Double Bonus Poker: This title has a four of a kind payout available, plus the gamble feature is on offer. This title also offers a better RTP with 98.98%. There's no Wilds and the usual 4000 coin payout with the Royal Flush hand is available. There's a minimum of $0.25 and a maximum of $25 available.
Aces and Eights: Played with a 52 card standard deck and no Wilds are in play. You can draw as many as five cards with a minimum of $0.25 and a maximum of $25 available. The RTP is 99.09%.
Aces and Faces: This option is similar to Aces and Eights but offers Four of a Kind payouts, with big wins when these are made of face cards or Aces. The RTP is 99.26% and there's a minimum bet of $5 and a maximum bet of $100 per game.
NetEnt video poker variants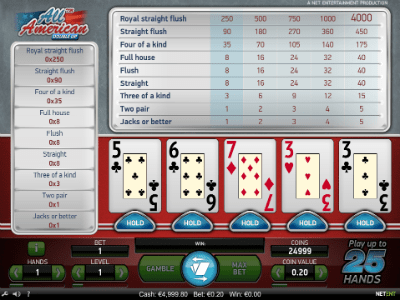 Net Entertainment bring a modern appeal to video poker, with their graphics creating stunning looking titles. They don't have as many variants as Microgaming but there's still plenty on offer.
All American Multi-hand: This title sees standard 52-card decks, but no jokers are used. You can play from one to 100 cards, and the RTP is 98.11%. The minimum bet available is $0.20, while the maximum bet on offer is $50.
Deuces Wild Multi-hand: The multi-hand variants mean there's between 10 to 50 hands eligible to be played. There's no jokers in play but all twos are considered Wild. There's a RTP of 99.56% and a minimum bet of $0.20 and a maximum of $50.
Jacks or Better Multi-hand: The RTP for this variant is 99.56% and pays when Jacks or better appear. Theres one to 25 hands available to play, a minimum of $0.20 and a maximum of $50 per game, and the gamble option is also available.
Play a large range of video poker variants online at Jackpot City online casino directly over your Web browser with no downloads required, and claim up to $1600 in welcome bonuses..