Turkey is an incredibly restricted online gambling region. Between 2009 and 2014 alone, the country managed to block 110 online gambling sites. This came after Internet gambling was banned in 2007 and in 2013 unregulated offshore casinos became the target. Despite the legal status of online gambling – no players have been fined so gambling on card sites isn't completely off limits.
Best online casinos for players from Turkey
Casino
Bonus
Games
Pokies
Signup
The history of Turkey and online card game gambling
Turkey is a country located in Eastern Europe and is bordered by eight countries including Greece, Bulgaria, Georgia, Armenia, the Azerbaijani exclave of Nakhchivan, Iran, Iraq and Syria. The latter two have resulted in the country experiencing security threats with governments all around the world advising international visitors to avoid Turkey. This is unfortunate, as Turkey is home to some of the most incredible landscapes, including incredible mountains and the unique calcium baths.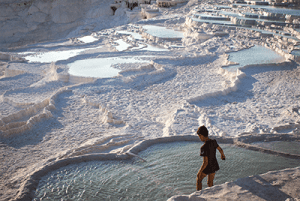 When it comes to gambling, it has gone from being legal to completely illegal. Land-based gambling was banned in 1998 after the 'casino king' Ömer Lütfü Topal, was murdered in 1996 – it was believed money laundering was involved. This resulted in online gambling web sites – especially since this was the time they first started to emerge – to become quite popular. But in 2007 they were banned by the Turkish government, but this didn't stop players accessing sites located offshore.
Turkey then bolstered its laws in 2013 to combat this, targeting offshore online gambling sites by enforcing penalties for gambling related offences. Turkey's Telecommunications Authority became responsible for blocking illegal websites, while the Turkish Banking Regulation and Supervising Agency became in charge of ensuring Internet gambling sites could not process card payments. But what was most interesting about the legislation revamp was the focus on players. Players who visit online gambling sites can face heavy fines, between 100,000 to 500,000 Turkish lira.
But gambling isn't entirely illegal; there are forms available in the country. These include wagering on major horse races, sports markets offered by the only legal sports betting game in the country IDDAA, and the country's lottery company Milli Piyango.
Since all forms of online gambling, not conducted by the state, is considered to be illegal many online operators have withdrawn from the market. All our recommended poker sites withdrew from the Turkish market as a result – European players can access the site and play their favourite card games, but not players based in Turkey.
Some online casinos do accept Turkish players, but it is at the risk of the player. If caught, there are heavy fines are imposed. Given the average annual salary is $21,330 Turkish lira, the penalty would be more expensive than a gambling addiction.
Card game sites accepting the Turkish Lira
Card game sites feature a range of blackjack, baccarat, poker, and unique card game variants, but unfortunately it is rare to find one which accepts Turkish players. There are two sites which we play at which do allow Turkish players to sign up, and we detail these below, but remember the legislation enforced and play at your own risk.
Royal Vegas Casino: When visiting this top card game site, and signing up, players can indicate the location as Turkey. Unfortunately, the Turkish Lira isn't an available currency but you can opt for EUR or USD. The site is powered exclusively by Microgaming, with the exception of the live dealer catalogue, which is powered by Evolution Gaming. The latter is ideal for Turkish card game players who want to experience the land-based atmosphere as a dealer who plays the cards is streamed in real time direct to your device while you place your wagers. Other games include over 20 blackjack titles, around seven poker variants, and three baccarat table games each running on Random Number Generator software.
BetOnline: While you can only play in USD at this online casino, it might be ideal to join since it offers a huge range of card games including Gin Rummy, as well as a live poker room. You can select Turkey as your location when you sign up and get playing the limited version of real money card games – there's about one third of the blackjack games available to Turkish players compared to other countries – by BetSoft and other software providers.
Payment methods at card game sites for Turkish players
When it comes to funding your casino account to play card games, you may have a bit of trouble. Since credit and debit cards don't work, it might be best to opt for an e-Wallet, also known as a web wallet service. These are online-based payment services popular with real money players who want to deposit money at a casino but want to do it with an extra layer between their personal bank accounts or cards, and the casino site in question.
Neteller allows Turkish players to open an account but not use it unless travelling outside Turkey. Additionally, PayPal use to be a prominent web wallet to use in Turkey but in 2016 it was shut down as finance regulators rejected a new license.
Skrill on the other hand allows full web wallet access and you can select your location as Turkey and deposit in Turkish lira. You will need to ensure you fund the web wallet account with enough money to account for the conversion fees incurred when depositing at the card game site. You can Google the conversion fees between your currency and the one you have chosen to gamble in.
You can also use Bitcoin at BetOnline, which doesn't rely on a middle man – the bank – to process the funds so you shouldn't have a problem. Purchase these online with a range of payment methods.