Despite all the advances in gaming technology and the widespread use of smartphones, tablets, portable DVD players and laptops, it's comforting to know that the love of good old fashioned card games are still as prevalent during travels today as they were twenty years ago.
Spend some time at any caravan park, camping ground or at a shared holiday house and it won't take long before someone whips out a deck of cards and announces a game is about to commence. Card games during holidays are loved by children and adults alike and despite our proclivity for online gaming, we sincerely hope that beloved card games always remains a staple of the great family holiday.
If you have a trip planned for the near future and are wondering about what to pack, don't forget to add a deck of cards to your list. Even if it's been years since you last played a real life card game, you'd be surprised at how quickly all the rules come flooding back.
Whether you're travelling on business, going on a family road trip, backpacking through Thailand or camping at your family reunion, we recommend some of these old favourites for the best card games to play when travelling.
Uno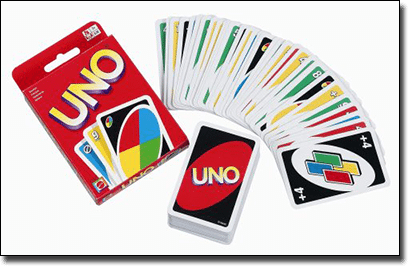 Who can go past this awesome card game and its wild set of rules that allows you to utterly sabotage other players for your own chances to win? Uno is one of the kings of all card games for travelling; it can be a fantastic time waster between flight connections, a great way to get the kids off your back, or even turned into a drinking game for those adult only vacations.
If you're not familiar with Uno, it can't be played on a standard 52 deck of cards and requires the purchase of its own set of Uno cards, which will set you back around the best $10 you'll ever spend. Uno cards are made up of different coloured, numbered and direction cards (like Draw Four, Draw Two, Reverse, Skip and the highly sought after Wild Card) with the aim of the game being the first player to declare "Uno" and get rid of all their cards. It can be played from 2 to 6 players, making it ideal for couples or families whilst travelling and is a favourite amongst backpackers.
Visit our Uno page for an explanation on gameplay, rules, tips and where to buy and play Uno.
Poker
Let's reserve this game for those adult vacations, or at least until the kids have gone to sleep. There are fewer things more fun on holiday than getting out the poker set, cracking open a few beers and gathering around a poker table with your mates for some friendly banter, laughs and the chance to kick each other's asses. It doesn't matter whether you decide to play poker for real wagers or just for the fun of it, playing poker is relaxing, exciting and a sure way to add some great memories to your trip.
Poker can also provide a good way to bond if you're travelling with people you don't know that well, to better get to know work colleagues during a work trip, or even strangers who you've met during your travels.
Visit our Poker page for more on all Poker variants and where to play for real money online.
Go Fish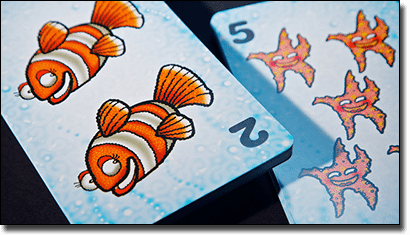 Perhaps one of the most famous and beloved family card games, it's rare that you'll meet a person who doesn't have a childhood memory of playing Go Fish during a family holiday. To refresh the memory of those who may have forgotten about this time honoured card game, Go Fish requires players to make pairs out of their hand by asking other players in the circle to hand over certain cards, being told to "go fish" if the player cannot comply. The player with the most pairs at the end of the game is declared the winner.
Typically a standard 52 deck of cards (jokers optional) is used, although you can also buy some specifically themed cards targeted at younger children, like Australian animal cards, etc. Go Fish is definitely more suited to families and kids, but you'd be surprised how enjoyably nostalgic it can be to play with adult friends on a holiday.
Visit our Go Fish page for all the rules and strategies for this popular kid's game.
Solitaire
While anyone who's used a Microsoft computer since the mid-90's will be familiar with playing this card game by clicking a mouse, playing solitaire with a real deck of cards provides a perfect way to either kill some time while travelling alone, or to simply enjoy getting into the zone for some R&R time with a cocktail in hand.
One of the things about solitaire that makes it so perfect for travelling is that being a solo game, you can play at your own pace and even stop half way through to commence at a later time. Playing this old school classic using real cards is a fabulous way to unwind or kill time while travelling that won't drain the battery on your smartphone or tablet.
Visit our Solitaire page for more on the iconic computer card game
Speed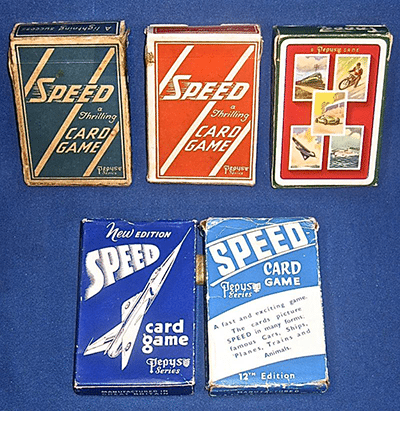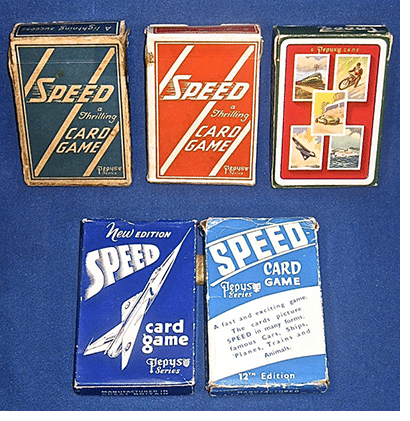 Speed is a game you'll commonly see played between two people lounging around the front of hostels and drinking at budget bars on the worldwide backpacker trail. Speed makes a good game for travelling as it's easy to set up and only takes a few minutes to play, making it an ideal time filler while waiting for busses or to check in to hotels.
Played with a standard deck of 52 cards, players are each dealt a five card hand with a 15 card draw pile, then two face up cards are dealt in the middle of the players. The aim is to be the first person to get rid of all your cards, by placing cards that are of value either just above or just below the face-up cards (for example, if a six is the face-up card players can place either a five or a seven on it). Speed doesn't require much skill or strategy, but it can be ultra-competitive making it fun to play with a friend over vacation beers.
Want to play card games for real money on the Internet, on your computer, mobile smartphone or tablet? Check out our recommended online card game casinos such as Royal Vegas Casino for the best and safest experience.