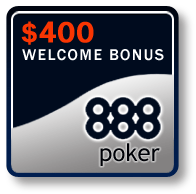 Website: www.888Poker.com
Welcome Bonus: $10 instant free cash + 100% deposit match up to $888
Games: Texas Hold'em, Omaha, Seven Card Stud, HORSE, and more
Over the course of the last decade, 888 Poker has risen from relative obscurity to become one of the world's leading real money poker sites. It now runs thousands of online hold'em, Omaha, stud and other tables daily, including cash games, scheduled tournaments, and sit-n-go poker events. And with acclaimed gameplay technology which allows easy access across multiple platforms, we have no hesitation dubbing 888 as the number one Internet poker site for players around the world.
Note: This review is intended for our international readers only. 888 Poker does not accept Australian players and Australians cannot gamble online as of September 2017 due to the Interactive Gambling Amendment Bill 2016 coming into full legal effect.
888 Online Poker Software
Quality software is the power behind any online gaming site, and 888's is among the very best. There are two options available on both PC & Mac systems:
Download the complete software suite – Access the poker lobby direct from your computer's desktop. You get all the special features here, including 3D poker and 888's exclusive PokerCam rooms. So if you want a personalised online poker experience where you can tweak settings and displays exactly to your liking, this is the mode for you.
Play through your Web browser (instant play) – Instead of installing the software client, you can play real cash poker through your Internet browser using Flash technology. This is perfect for people who don't mind losing a few of the less essential desktop software features in exchange for the freedom to play on any machine, at any time.
The great thing about 888 Poker's gameplay interfaces is there are no major compatibility issues – regardless of which option you prefer. For while most desktop gaming clients are optimised for Microsoft Windows, the 888 software download is also available on Mac OS X. This is a huge bonus for Apple users who want all the bells and whistles usually reserved for PC operating systems.
Whether you play via the browser or go for the full download, you get the same integral features: an easy-to-use lobby layout where you can find all the real money poker tournaments, ring games, and sit-and-go tables on offer at 888Poker. We can also tinker with the look of the rooms, tables, and even the cards, to create a truly bespoke gaming atmosphere.
So which is better: the complete package, or no-download Flash poker? That's entirely up to you, really. If you like features galore and the permanency of having an executable program on your desktop, then install the software. But if you want maximum flexibility, or if your hard disk space is limited, then instant browser play is probably more to your liking. Whichever one you choose, you can't go wrong.
Mobile Poker for iOS, Android and Other Devices
The 888 mobile poker platform offers international punters the absolute ultimate in convenience. If you own any major brand of smartphone or tablet and have a solid data connection, you can indulge in real money scheduled hold'em tournaments, SNG poker, and mobile cash games on the go – as well as free-roll events and play money tables. Some Symbian and WAP-enabled devices can get in on the act, too.
Additionally, 888 has introduced SNAP poker which is available via mobile gameplay, too – all rules are exactly the same, whether you play cash games or tourneys, except there is less wait time between hands when you fold.
If you have an Android phone or tab (Samsung Galaxy, Sony Xperia, HTC One, etc.), you can download the 888 Poker app direct from your mobile from the 888 website (make sure to allow the installation of non-market apps). If you're running an iPhone, iPad, or iPod Touch, then you can play straight through the 888 mobile site's Web app for iOS on Safari (or any other Internet browser you may have installed). Either way, you get instant round-the-clock access to the best mobile poker games. For all other devices, pull up 888 in your mobile browser and you'll be given the option to either install the app or use the Web app.
Poker Games at 888 Poker
You can find all the most popular poker styles at 888, along with a wide variety of betting rules and limits – from $0.01/$0.02 stakes up to $500/$1000 – to cater for international poker players of all stakes. The following are the big three, with hi/lo variants and mixed games also available:
Texas Hold'em – The king of the hill when it comes to Web poker, for no other game gets near it for sheer popularity. The most common format is No Limit Hold'em (NLH), as seen at the World Series of Poker Main Event – the most prestigious live poker tournament on the planet.
Omaha – Similar to Texas Holdem, in that both games use a board of five community cards with a flop, turn, and river. In Omaha poker, however, players take four hole cards and must use exactly two of them to form a hand. Pot Limit Omaha (PLO) has gained a strong following in tournament play in recent years.
7 Card Stud – Once the style of choice for home games all over the United States, stud poker offers something different for those who have grown up on flop-style hold'em games. Seven cards each (three down, four up) and five betting rounds make for a unique game which requires special attention to poker strategy.
Real Cash Tournaments & Freerolls
There are thousands of online poker tournaments going on at 888 Poker every day. Here's just a few of the tourney setups available to Australians:
Freerolls – This is a great way for beginners and intermediates to take their first steps in competitive poker. Freeroll tournaments cost nothing to enter, which means you can build your bankroll up from scratch – especially if you're a relatively experienced poker player, as there's lots of newbies in these events.
Satellites – A satellite poker event is one where the winner(s) earn entry to another, usually more lucrative tourney. Bring your A-game and a couple of bucks to cover the buy-in, and you can play your way into some of the world's biggest live poker tournaments – including the WSOP Main Event.
Multi-Table Tournaments (MTTs) – This is your traditional competitive poker format, as seen in the WSOP and every other major live tourney. As players are knocked out and the field shortens, tables are removed from play until there is only one remaining. If you outlast everyone at the final table, you win the tourney and all the riches that go with it.
Heads Up – This is a condensed MTT format where each table features only two players going head to head. If you bust out, you're done; if the other guy busts, you go through to the next round. Imagine the draw for the knockout rounds of the FIFA World Cup or the UEFA Champions League, and you will have a fair idea of how heads-up poker works.
Sit & Go – Tournament play is traditionally subject to a scheduled starting time, at which point the event kicks off whether or not all the entrants have arrived. In sit-and-go poker, on the other hand, the tourney only starts once all the available seats at a table are filled. These are often single-table tournaments, so they're great if you don't have hours of poker time at your disposal. For the fastest poker action on the Net, try 888's Turbo and Super Turbo SNG events.
888's PokerCam
Exclusive to 888, PokerCam is a revolutionary development which makes for perhaps the most authentic online poker rooms around. Instead of playing against motionless avatars, here we can see the faces of all our opponents and engage in live chat. Not only is it a fun and interactive way to play digital poker, it also brings back traditional skills such as reading your opponents' tells while controlling your own poker face.
You need two key pieces of kit to play 888 PokerCam games: the full software package on PC or Mac, and an active Web camera. Once you've got that sorted, open up the 888 poker lobby and look for 'Video' tables. From here, you can join cash games, special PokerCam tournaments, and even start up face-to-face social poker games and invite all your mates to play.
Some folks out there may abuse this format, either for their own gains or simply to be a prat. If you come across anyone who is obscuring their webcam or behaving in an anti-social manner, you can report them to [email protected].
Online 3D Poker
Another cool perk of downloading the 888 software client is the ability to play with three-dimensional graphics. And by that we don't just mean really advanced 2D animations, but actual stereoscopic visuals which require you to wear those 3D glasses with the red and blue lenses. This creates brilliant immersive and entertaining Web poker, getting you closer than ever to that feeling of being in a real land-based poker casino. To activate 888 3D Poker, go into the 'Settings' menu and select the 3D option in the 'Table Layout' section.
$888 Welcome Bonus
International real money players at 888 Poker can score hundreds of bucks in cash bonuses right from the get go. This includes a no-deposit registration package up to $88, where you get $10 free the moment you sign up and can score another $78 in buy-in vouchers for ring games and tournaments. And if you do decide to play with some of your own cash, the house will match your first deposit 100% up to $888 – so for every bit of cash you add on that initial transaction, your account will get credited double the amount. Head over to www.888Poker.com to sign up and learn more about the generous poker welcome bonus and other promotions on offer.
Secure Real Money Banking Options
As with all the very best online gambling operators, 888's top priority is keeping your details and cash safe. That's why every deposit and withdrawal at the site is protected by 128-bit SSL (Secure Socket Layer) digital encryption technology, while only trusted transaction methods are accepted. See below for the most popular banking options at 888 Poker.
Visa debit and credit cards
MasterCard debit and credit cards
EntroPay
Maestro
Neteller
Skrill (Moneybookers)
Get up to $888 free credits at 888 Poker – our #1 real money hold'em poker site for our international readers.