While it's not a card game, keno is a fun and exciting game of luck that requires no specific skill to play, making it very appealing to players who enjoy a casual punt without too much risk to their wallets. We explain the basics of keno, including the best live venues and outlets to play keno for real money in Australia, so you can see for yourself why this number game is so wildly popular with Aussie punters.
Best online casinos to play keno
Casino
Bonus
Games
Pokies
Signup
What exactly is keno?
Keno is a game of luck that follows a similar format to lotto, originating from an ancient Chinese lottery game. It's a pick-and-match number game that can be played by anyone over the age of 18, and just like lotto, you don't need to learn any special strategies or be particularly skilful to play. Given its fun and easy nature, it is a much loved game in Australia, found everywhere from the local pub to leading Internet casinos.
Rules of keno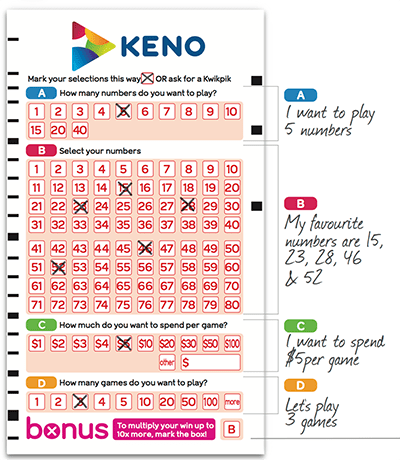 Typically, keno consists of 80 balls that are numbered from one to 80. To play, you select up to 20 numbers which you deem to be lucky (some online games may only allow you to choose up to 15 numbers), with 20 numbers then drawn at random from the pit of 80. The more of your picks you match (which are often referred to as "catches") the more money you stand to win.
How much you can win at keno varies between each game, with different vendors offering different pay scales. Your potential winnings are also dependent on how many numbers you choose. Given these variables, you'll need to refer to the game at hand to suss your potential winnings. The individual paytables reflect just how much you can win based on how many of your chosen numbers are picked. For example, if you pick five numbers and three of these are picked, your payout may be 3:3, while hitting five out of those five numbers will give you a payout of 5:50.
Some games of keno also give you the option of enabling bonus bets, like placing an additional wager for the chance to multiply your winnings, or even placing a fun side bet like heads or tails. While keno is certainly designed to be a fun and easy game, don't let its light-heartedness fool you – there is some seriously big money to be won in this game.
Where to play keno in real life
In Australia, the major keno games are run by the same corporations that run the lotteries, like Tabcorp, Tattersalls and SA Lotteries and as such, you never have to venture far to try your luck at keno. You'll find keno games on offer in retail outlets like newsagencies and petrol stations, gaming establishments like casinos and TAB venues, plus all kinds of pubs, clubs, RSLs and sporting venues. The sheer availability of keno games around Australia speaks multitudes for its popularity, with new games beginning every couple of minutes.
When playing keno offline, you mark your selected picks on a paper keno ticket using a pencil (or can select the easy pick option where number are randomly selected on your behalf), and then hand it over to the vendor for processing. The winning numbers are then displayed on a screen and if you catch a win, you can claim your money right there on the spot.
How to play keno online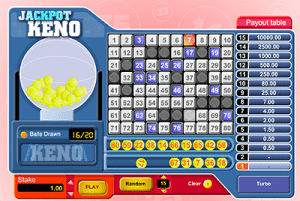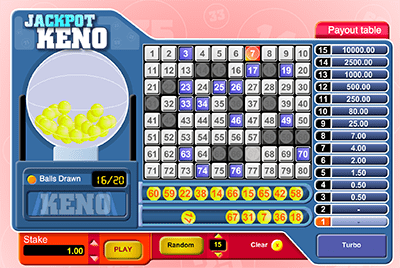 Playing keno online is a relatively recent innovation and is fast becoming popular with online players. Given its luck-based nature, it's an easy game for anyone to try for some quick entertainment with the chance to make a profit.
Playing for real money online is incredibly simple. All you need to do is sign up for an account with a reputable Internet casino and make an instant deposit to your account. The best casinos offer plenty of safe payment options for international players, including Visa, MasterCard, Neteller, Skrill, Paysafecard and POLi, with deposits accepted in multiple currencies
If you're unsure whether you want to risk any of your own money playing keno, this is where the Internet really comes in handy, as online casinos also offer the option of playing for free in practice mode. Free play is a great way to familiarise yourself with the rules of keno and to try out a few games to see if it's up your alley before committing to a real money wager.
To play, simply load the keno game of your choice directly over your Web browser, with no downloads required. On the board of 80 numbers, click on the numbers you wish to select. The paytable to the side of the board will automatically update based on the amount of numbers you pick, so you can clearly see how much you stand to win. When your numbers have been selected, hit the play button and watch the catches happen before your very eyes. The computer will automatically register your winnings, with all winning money deposited directly to your online casino account.
Best online casinos to play keno
While keno isn't as common at online casinos as games like the pokies, blackjack and roulette, most leading online casino do offer at least one or two variations of keno, including live dealer keno, where you can watch numbers bring drawn by real human croupiers in real time using a live video stream. When it comes to the top-rated keno sites accepting international players, the leading casinos recommended in our table above get our vote.
You'll also find a large selection of card games available to play at these casinos, so you can try your luck at keno between hands of blackjack, poker, and many other casino games. New players who register via our page are eligible for some hefty sign-up rewards, just use our links above to claim welcome packages that include matched deposit bonuses when funding your account with real money, and free spins on the pokies.
Is there a recommended keno strategy?
One of the reasons keno is so popular is that the outcome is based entirely on luck, so it's not intimidating to players like, for example, blackjack, which requires a certain level of skill and strategic play to increase your chances of winning. As a game of chance, there is nothing a player can do to influence the outcome of a keno draw, no matter what some desperate strategists may tell you. However, there are strategies you can employ to enhance your keno experience, for example, choosing lucky numbers that are special to you, and always betting within your means so that keno remains the fun game it was intended to be.
Want to give online keno a go? Visit G'day Casino, one of the most trusted casinos on the Web, which offers computer keno and live dealer keno. New players can claim a 100% matched deposit welcome bonus up to an unlimited amount to kick off your online keno experience.