The notion of Internet scratchies may seem odd. After all, don't scratchies by their very nature require the physical act of being scratched? That may be so, but online scratchies essentially work in the same way as real-life scratchies, the difference being items are clicked rather than scratched to reveal what's lying beneath. I guess "clickies" didn't have quite the same ring to it.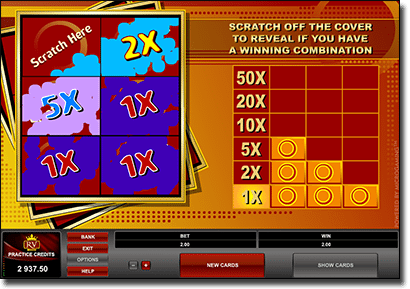 Instant scratchies, also referred to as instant win cards or instants, are a fun and lighthearted way to enjoy the excitement of online gambling – with the potential to bring in some pretty decent wins. They require no skill or previous intricate gaming knowledge to play; to be in the running for some sweet cash prizes, all you need is a registered real-money account with a reputable online casino of your own choice with adequate funds transferred in your bankroll.
Some instant scratchies require real-money bets and can't be played for free in practice mode, but with games available for as little as 10c, even lower-wager online gamblers can enjoy scratchies without breaking the bank.
How to play online scratchies
This guide is for our international readership only. Australians can only view this guide as an informational tool and not for recommendations, due to online gambling being completely prohibited from September 2017 onwards due to the Interactive Gambling Amendment Bill 2016 coming into full legal effect.
Instant virtual scratch-offs could not be more simple. Commonly found at all leading online gambling venues, they are usually in the 'mini games' or 'other games' section of game catalogues. Simply head into the game you want to play and select the amount you wish to bet on that game. The amount you bet will be the basis for any winning multipliers.
Depending on the game, several items will usually appear on the screen in lieu of the scratch boxes you'd find on a real scratch card. Instead of scratching, the player uses the mouse to point and click to select the items and reveal the contents. If playing for real money all winnings go straight to your online casino account, which can later be withdrawn.
Scratchies also come with an instant play function, which means if you simply want to see if you have a winning card you don't need to waste time clicking each item to reveal its value and all values will be revealed at once. Scratchies use random number generators (RNGs) to determine the results and the outcome is based purely on the luck of the draw. Real money players can win from as little as a dollar, to jackpots up in the tens of thousands of dollars.
Best Scratchies available on the Web
Great fun on their own or a nice way to take a break between blackjack or pokies games, instant scratch cards can be found at all leading online casinos including our recommended sites like All Slots Casino and Jackpot City. What are the best online scratchies? These ones have our vote.
Bubbles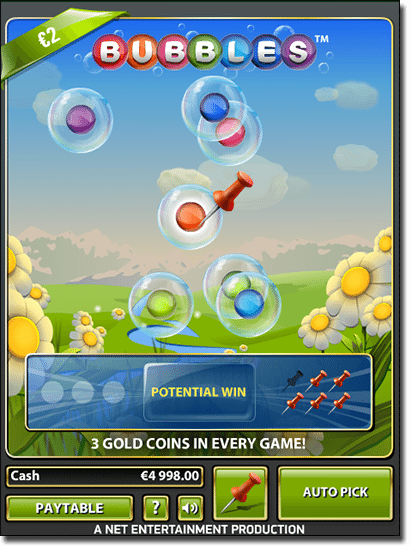 In this NetEnt Scratchies game, players chase eight bubbles floating against a serene blue sky and choose six of these bubbles to pop in order to reveal either a black coin or a gold coin. The outcome of the game is determined by how many of each coloured coin you end up with. Three gold coins constitutes a win.
Each game has three gold coins hidden in there somewhere, so there's potential to win the jackpot every round. Boasting a colourful aesthetic and relaxing audio, Bubbles is a great game to wind down to, and is playable at the very best Net Entertainment casinos like G'Day Casino.
Shoot 4 Gold
Another NetEnt scratchies, players with a love for classic arcade-style games will love Shoot 4 Gold. Using a nostalgic styled shooting gallery, this instant scratch game works just like the carnival sideshow game where players shoot at ducks as they bob on past. Eight ducks swim by in total and the player has six shots to reveal the three ducks holding the gold stars. Revealing three gold stars constitutes a win.
Foamy Fortunes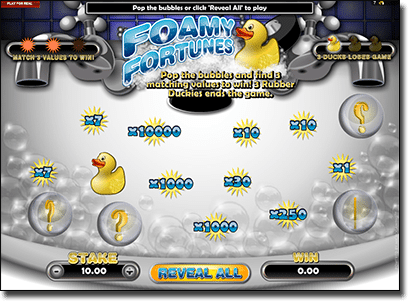 Foamy Fortunes really turns on the suspense as it lasts a little longer than typical six- or eight-square scratchies. Set within a foamy bubble bath, soapy suds filled with question marks float by, new ones coming and going by the second. When you pop a bubble an amount is revealed, such as $1 or $10,000, etc.
The aim is to pop three of the same-valued bubbles in order to win that amount, however, the tricky part is that if you reveal three rubber duckies hiding within the bubbles then you lose. The game is over when either three rubber duckies are revealed or all bubbles are popped, whichever comes first. Try Foamy Fortunes at Royal Vegas Casino under the 'variety games' section.
Hairy Fairies
The fairies you'll find in this scratchie are not the enchanted, majestic creatures you may imagine. Instead these are beer-bellied, booze-swillin' slobs floating around in the night sky waiting to be burst by your magic wand to reveal their hidden value. There are 12 hideous hairy fairies and you need to choose nine lucky ones in order for the same hidden value to appear three times. If you click three fairies of the same value you win that amount. Find these scallywags at Platinum Play Casino.
Whack-a-Jackpot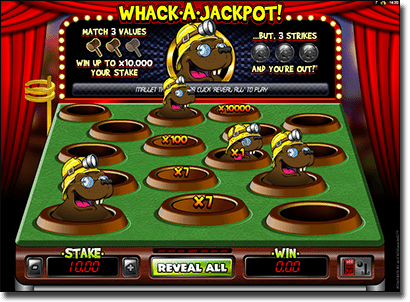 Another arcade-style scratchies, in Whack-a-Jackpot 16 mole holes are displayed. The aim is to whack all the moles on the head with a mallet to reveal their hidden value. Hitting three moles of the same value will award you with that amount, however, there are a few valueless moles in there.
You receive a strike for each of the valueless moles you hit, with three strikes and you're out. Play for free or real money bets at Jackpot City Casino.
Why play scratchies online for real money?
The quality of Internet scratchies is nowhere near as impressive as the visual magnificence or innovative gameplay you'll find in other online casino games such as 3D pokies or live dealer gaming, but scratchies don't require the same level of graphic quality. These games are designed to be quick and easy and that's exactly what they are.
Head over to any of our recommended online casinos, such as All Slots Casino and enjoy the simple fun of online scratchies with real bets available – all with safe and secure deposits and gameplay thanks to the latest in 128-bit Secure Socket Layer digital encryption technology, the very same used in banks.