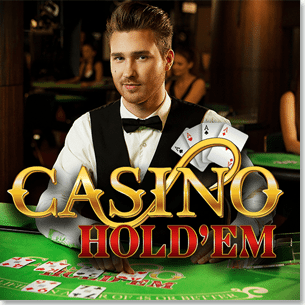 Casino Hold'em is a poker variation that follows many similarities to Texas Hold'em, the main difference being that players compete directly against the dealer and not against other players. An unlimited number of players can play simultaneously at any Casino Hold'em table. The aim of the game is to make the best possible hand out of the five cards you are dealt, in turn beating the dealer.
This version of poker was created in 2000 by Stephen Au-Yeung and can now be found in land based casinos all over the world and online for virtual play at trusted sites like
All Slots Casino
and several others, which we will discuss later.
Best online casinos to play Casino Hold'em
Casino
Bonus
Games
Pokies
Signup
Betting
Before cards are even dealt, both the player and the dealer must place an initial Ante wager. Players also have the additional option to make an AA bonus side bet, which results in a win if a Pair of Aces or higher are dealt within the first five cards.
The Deal
Casino Hold'em is played with a standard 52 deck of cards, which are shuffled thoroughly before being dealt. The player and the dealer are both dealt two cards each, face down. Once the player and the dealer have their cards, three community cards are then dealt to the middle of the table, face-up, which are for common use for each player to make up their complete hand.
Casino Hold'em gameplay and rules
Once the initial Ante bets and deals have been made, the game is officially in play. After consulting their two face down cards, players need to decide either to:
Fold – meaning they lose their Ante bet and play stops here
Call – meaning an additional bet of double their Ante wager is placed and play continues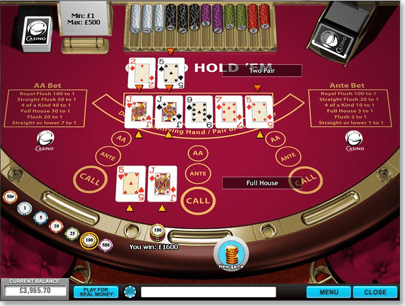 If a player makes a Call, two more community cards are dealt, leaving five community cards in the middle of the table, which the player must now use to make up a complete hand that is better than the dealer's. The cards of each player who called are now compared to the dealer's hand.
The dealer's hand must contain a pair of four's or better to qualify, anything lower than that and the player wins the Ante wager according to the pay scale and the call bet becomes a push (meaning the player neither wins or loses it).
If the dealer's hand does qualify, the following apply:
Dealers hand better than the players = the dealer wins and the player loses all bets
Dealers hand equal to the players = all bets are push, so no one wins or loses
Player's hand better than the dealer's = player wins the Ante bet according to the game's pay scale and the Call wager with a payout of one to one.
If you are familiar with the rules of Texas Hold'em, the most popular poker variant found in land based and online casinos, then picking up the rules of Casino Hold'em will be a breeze. It's also a pretty simple game to understand for newbies to poker and is a fun and exciting way to test your poker skills in a one-on-one fashion directly against the dealer rather than other players. Casino Hold'em provides hours of great game play, with online and live dealer variations of the game as impressive as playing in a casino in real life, with the added benefit of playing from the comfort of anywhere you desire.
Payout structures
The hand rank in Casino Hold'em is the same as Texas Hold'em except the casino installs odds on each outcome. You can bet on these outcomes in your side bet, or simply bet that your hand is stronger than the dealers.
The payout strucutre:
• Royal Flush 100x
• Straight Flush 20x
• Four of a Kind 10x
• Full House 3x
• Flush 2x
• Straight or Less 1x
Hold'em side bet
The best part of casino hold'em is that there is a side bet. Players have the choice of playing the side game each hand they are dealt. The players are then required to get at least a pair of Aces or better off the flop (which are the first three cards).
A pair of Aces to a straight pays out 7 to 1, A flush pays out 20 to -1, four of a kind pays out 40 to 1, a straight flush pays out 50 to 1 and a Royal Flush pays out at 100 to 1.
Where international players can play Casino Hold'em Poker
Casino Hold'em Poker can be found for free play in practice mode and for real money wagers at a range of our recommended online casinos, each of which offer some alluring welcome bonuses for new players. Our top-rated card game sites along with the welcome bonuses they offer for new players are listed in the casino table at the top of this page.
These trusted casinos utilise spectacular graphics and state of the art technology to ensure that playing Casino Hold'em Poker is as real to life as possible. Games are payable for free in practice mode, which provide a great platform for new players to familiarise themselves with the game before moving on to play for real money. If you decide to play for the chance to win real cash, there are plenty of safe deposit options available for instant money transfers online.