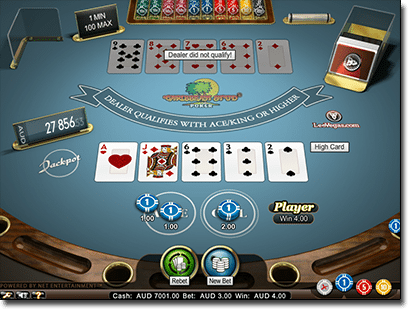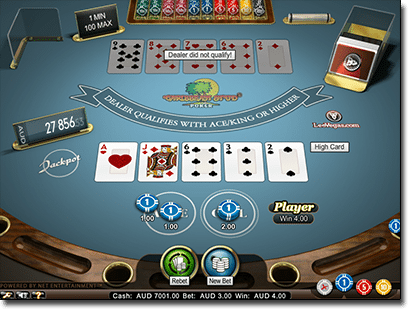 Caribbean Stud is a poker variant rumoured to have originated in the Caribbean island of Aruba sometime during the 1980's, making it a relatively new game as far as poker variants go.
A modification of Five Card Poker, the major difference in Caribbean Stud is you play directly against the dealer, so there's no need to worry about the hands of other players. The dealer's hand only qualifies if their initial hand consists of at least an ace or a king, which leaves a good chance for the player to profit, but with a house edge of around 5.2% Caribbean Stud requires the implementation of solid poker strategy in order to beat the dealer.
How to play Caribbean Stud poker
The rules of Caribbean Stud poker are as follows:
1. The game is played with one standard deck of 52 playing cards.
2. Players must place an ante-bet to play, with the option of placing an additional $1 wager to go towards the progressive jackpot side bet.
3. Once all bets have been placed, each player and the dealer receives five cards. Only one of the dealer's cards will be shown face-up, while the remaining four cards are face down.
4. You must now decide to call (double your initial bet to stay in the game) or fold (end the game and forfeit your initial wager plus any side bets).
5. If you decide to stay in the game, the dealer will now look at their face down cards. If the dealer's hand doesn't consist of at least an ace and a king or higher, they automatically bust and you receive double your initial ante, with any additional bets returned to your bankroll.
6. If the dealer's hand does quality with an ace + king or higher, your hand is now compared to the dealer's hand. If your hand is of higher value, you win your ante bet plus a payout on your call bet depending on your final hand (see below for further info). If the dealer has a hand with a higher value, you'll lose both your ante and any additional bets.
7. In the occasion your hand ties with the dealer, its considered a push and you'll receive both your ante and your call bet returned to your bankroll.
8. If you opted to place a side bet on the progressive jackpot and your hand wins, you'll also win an additional amount. The payout amount of the jackpot side bet varies depending on the rules of the game you're playing.
Payouts in Caribbean Stud poker
Payouts may vary slightly between casinos, especially if playing online compared to in a land based venue. We've used the payout from Net Entertainment's Caribbean Stud poker game as an example of the typical payout scale:
Royal Flush – pays 200 to 1
Straight Flush – pays 50 to 1
Four of a Kind – pays 20 to 1
Full House – pays 7 to 1
Flush – pays 5 to 1
Straight – pays 4 to 1
Three of a Kind – pays 3 to 1
Two Pairs – pays 2 to 1
Single pair – pays 1 to 1
Ace and King – pays 1 to 1
Progressive jackpot side bet rules and payout
Opting to place a $1 side bet on the progressive jackpot means a portion of this bet will go towards a growing progressive prize pool. If you've chosen to place this additional side bet and your hand consists of a winning hand specified in the jackpot table, you'll receive a payout regardless of whether your hand beat the dealers or not.
The payout for the jackpot side bet varies between games and venues, but will always pay 100% of the jackpot pool for a hand with a Royal Flush. Once again, we've used NetEnt's Caribbean Stud rules to give you an example of the jackpot bonus payout (note in land based casinos it's common a jackpot side bet will only pay for a Flush or higher):
Royal Flush – 100% of the jackpot
Straight Flush – 2,500 for 1
Four of a Kind – 250 for 1
Full House – 100 for 1
Flush – 25 for 1
Straight – 10 for 1
Three of a Kind – 5 for 1
Caribbean Stud poker strategy
Given the high house edge (5.2%) many poker experts will tell you your best strategy is to avoid this game entirely, however when careful consideration is taken for each move, Caribbean Stud has the potential to be quite lucrative. The following basic strategy is highly suggested for any game of Caribbean Stud poker:
Always call if your initial hand consists of a pair or higher
Always fold if your initial hand consists of less than the dealers standard qualifying hand if your hand doesn't have an ace and a king or higher
The jackpot side bet is set at a low $1, but can be hugely lucrative if paid out, so if you can afford the extra bet without damaging your bankroll then it's definitely worth the gamble
Due to the high house edge, the golden strategy of all poker games should be applied – set yourself limits and know when to call it a day. Winning streaks in Caribbean Stud can seem like regular occurrences when the dealer fails to qualify for a few hands in a row, but with fast paced gameplay you can be down on your dollars before you know it.
Where to play Caribbean Stud poker online
Leading game developer NetEnt has a high quality collection of Caribbean Stud poker games to choose from, therefore you'll find Caribbean Stud poker available to play for free or real money bets at several of the world's best Internet casinos. When it comes to safe and reputable sites accepting deposits using AUD, we recommend the following casinos for high quality games of Caribbean Stud poker:
Follow our links above to sign up for an account at any of these sites and you'll receive a welcome bonus upon making your first cash deposit. NetEnt's Caribbean Stud Pro Series has a regular variant along with Caribbean Stud High Limit and Caribbean Stud Low Limit.