Blackjack is one of the most popular card games worldwide, and along with poker, the most recognisable game in the world of gambling.
Best blackjack card sites
Casino
Bonus
Games
Pokies
Signup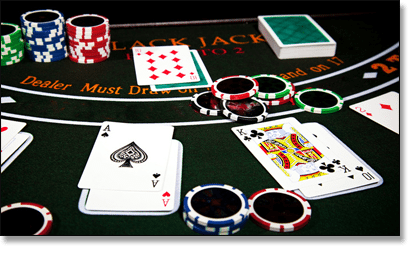 With movies such as 21, Rainman, the Hangover and of course the long-running James Bond film franchise, the reach of blackjack is ubiquitous and encompasses many different genres and mediums. There is a reason for this – it is fun and quick, yet offers something to both the beginner and the self-proclaimed expert. There is a certain strategy to the game that keeps people coming back to the casinos time-and-time again.
Both American and European versions of the game exist. Both are similar in content but have small, subtle variances that make the experience and strategies vastly different for the player. Given this, let's first take a look at some of the basic blackjack rules, then move on to the difference between the European and American versions. We will also include some basic strategy, and leave you with recommendations of the best places online to play a hand of 21. One of our top recommendations for international players is such as www.RoyalVegasCasino.com.
Of course, this guide is intended for international readers only where online gambling is legal – Australians can no longer play at online casinos for real money as of September 2017 due to new legislation coming into full effect.
Most Important Blackjack Rules
Blackjack is a very simple game on face value, but there are several important rules all prospective players should be aware of before they think about hitting the table. Contrary to what many people believe, the basic premise of blackjack is to 'beat the dealer', rather than to get as close to 21 as possible, without going over. In order to beat the dealer, a player cannot exceed a total of 21 with the combination of any cards they have been dealt, and the player must either build a higher total than the dealer, or have the dealer exceed a total of 21 (bust).
Value of the Cards in Blackjack
In all versions of blackjack, the card values are as follows:
Ace counts as 1 or 11, depending on the cards you have been dealt, or your preference.
Cards 2 through 10 are valued exactly as they are.
The Jack, Queen and King are all valued at 10.
Betting and Dealing of Cards – European and American Styles
Before the cards are dealt, you will need to nominate the amount of money you would like to place on your hand. The dealer will wait until all bets on the table have been placed, make a final call for bets then begin dealing the cards. The dealer moves from his/her left, through to the other side of the table on the right-hand side, dealing a face up card to each player. When the dealer has dealt everyone one card, he/she now must deal him/herself a card – and it is here where the European and American rules differ:
European Blackjack (format played in Australian casinos):
Once all players have received an initial face-up card, dealer draws one face-up card for him/herself and then continues to deal one more face-up card to all players (left to right again). Once all players have their two cards (with the croupier being dealt just the one), actions begins with the person left of the dealer. When all players have finished their turn, the dealer draws his/her second face-up card, continues to play his/her hand as dictated by the rules of that game, and once finished, pays/collects winning/losing bets.
European blackjack does not offer players the chance to surrender at any time.
Typically, players can only double down on a two-card total of 9, 10 or 11 (unless otherwise stated).
*Dealer can't peek for a natural blackjack before players make decisions, because he/she only has taken one card.
American Blackjack (played outside Europe, Australia and New Zealand):
Once all players have received an initial face-up card, dealer receives one card facing down, and then continues to deal one more face-up card to all players (again, left to right). Then the dealer draws a second face down card for him/herself, flips over the first card, secretly checks for a dealer blackjack if his/her now face-up card is an Ace or 10-valued card. If a blackjack is revealed, all players without a blackjack automatically lose.
Players can surrender at any time (and receive half their bet in return) – handy in any situation where players believes they are in a position that is un-winnable.
Players can double down on any hand.
For the most part, European and American Blackjack are very similar in playing styles, however the subtle difference with the initial deal and subsequent rules gives those playing the American format a few more options – not wasting any more cash if dealer does have BJ, the ability to double on any hand and surrender at any time – but again, it all comes down to the player's preference. You can play both variants at Royal Vegas Casino.
How a Dealer Plays His/Her Hand:
The dealer must play his or her hand according to a strict set of rules (in accordance with the version of blackjack being played), with no discretion allowed.
The two most common rules adhered to by dealers in a game of blackjack include: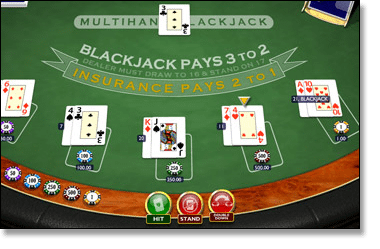 1. Dealer must stand on a soft 17 – when the cards dealt to the dealer total 17 or more, he/she will not take any more cards. If the dealer has anything less, he/she continues to hit (draw more cards) until his/her card amount reaches a total of 17 or greater. For example, a soft 17 hand of an Ace and 6 forces the dealer to stand, with the Ace being counted as 11. Soft and hard hands are explained in more detail below.
If the dealer's hand contains an Ace, this is counted as 11, unless drawing another card would push the total of the hand over 21, then the Ace reverts to being counted at a value of one. For example, if the dealer had an Ace and 4, this totals 15, but if the next card was a 9, instead of totalling 24, the new total would now be 14. The dealer would continue to draw until 17 or more was achieved.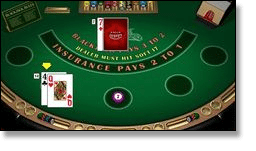 2. The other variation to dealer rules is when dealer must hit on a soft 17 (but stand on a hard 17 and any greater total). This is practised in Vegas Strip blackjack games. If the dealer displayed a 4 and 2, and then drew an Ace, that would be classified as a soft 17, and the dealer would hit again.

The Difference Between Hard and Soft Hands:
If a dealer has dealt you a 4 and an Ace, this is what you call a "soft 15" due to the flexibility the Ace provides – remembering an Ace can either be 1 or 11 based on what best suits the player. So if a player elects to 'hit' and receives an 8, this does not mean you 'bust' with 23, it means you have 19. This turns the hand you have into a 'hard' 19, given the Ace no longer has the ability to give you the 11, without having you bust. A hard hand is thus a hand where drawing another card can cause you to bust.
Basic Blackjack Strategy – Hard, Soft and Pair Hands
While the game of blackjack is simple to learn and a great game for beginners, there is still some strategy players need to be aware of before they hit the tables. The following strategy provides beginners with a simple and effective method to play blackjack – having said that, this method will not work 100% of the time.
Hands totalling 12-16 (without an Ace or with an Ace which must be valued at one) are hard hands.
A dealer up-card of a Deuce to a 6 is also considered a hard hand (applies to dealer only).
A player hand of 17 or more is deemed a pat hand.
A dealer up-card of a 7 through to an Ace is also considered a pat hand (applies to dealer only).
If you have a hard hand and the dealer has a hard hand, you should stand. If you have a hard hand and the dealer has a pat hand, you should hit. This is the most simplest of guidelines to follow. To take things one step further, follow these steps:
Dealer's Up Card is 2-6

Player has hard 4-11 total: hit
Player has hard 12-16 total: stand
Player has hard 17-21 total: stand
Player has soft 13-18 total: hit
Player has soft 19-21 total: stand
Player has pairs of 2s, 3s, 6s, 7s, 8s, 9s or Aces: split and refer to soft/hard total hands
Player has pairs of 4s, 5s or 10s: do not split and refer to soft/hard total hands

Dealer's Up Card is 7-A

Player has hard 4-11 total: hit
Player has hard 12-16 total: hit
Player has hard 17-21 total: stand
Player has soft 13-18 total: hit
Player has soft 19-21 total: stand
Player has pairs of 2s, 3s, 6s, 7s, or 9s: do not split and refer to soft/hard total hands
Player has pairs of 8s or Aces: split and refer to soft/hard total hands
Player has pairs of 4s, 5s or 10s: do not split and refer to soft/hard total hands
Splitting Cards:
When a player is dealt two of the same card at the table (for example, two Aces), he/she has the option of splitting the cards. Splitting the cards simply means you now have two hands going on at once, which means your bet is doubled, and you have two chances to defeat the dealer.
Doubling Down:
Doubling down is the process of matching your original bet to receive an extra card. This is not a required move, but it is advisable when a player receives a favourable set of cards from the dealer. Again, there is a slight variance in double down strategies when playing American or European blackjack.
Where to Play Blackjack Online
ACG recommends the following online casino sites which offer numerous variants of fun and reliable blackjack titles (far more than you'd find in a land-based casino).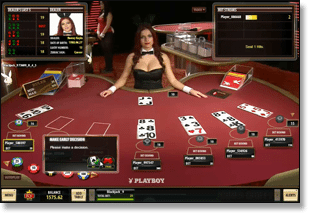 Royal Vegas Casino gives players a plethora of options when it comes to the famous game of 21, including the seldom seen Triple 7s progressive game, and Playboy Bunny live dealer blackjack titles, where a real croupier deals us cards via a live video streamed to our computer from a regulated casino studio.
Casino-Mate offers over 40 blackjack options, including single deck, multi hand and Atlantic City Blackjack. Casino-mate also offers up to a $1400 first deposit bonus – matching your initial deposit amount.
G'day Casino offers new gamers a 100% unlimited matched bonus with unique titles including player's choice blackjack.
Jackpot City offers players live dealer blackjack, as well as many different blackjack styles and rules from software developer, Microgaming.
Blackjack is one of the most popular casino-based card games for a reason. It is easy to pick up, yet takes a lifetime to master. Visiting the reputable sites listed here and using the information from this article will give beginners all the opportunity they need to successfully play blackjack to the best of their ability.